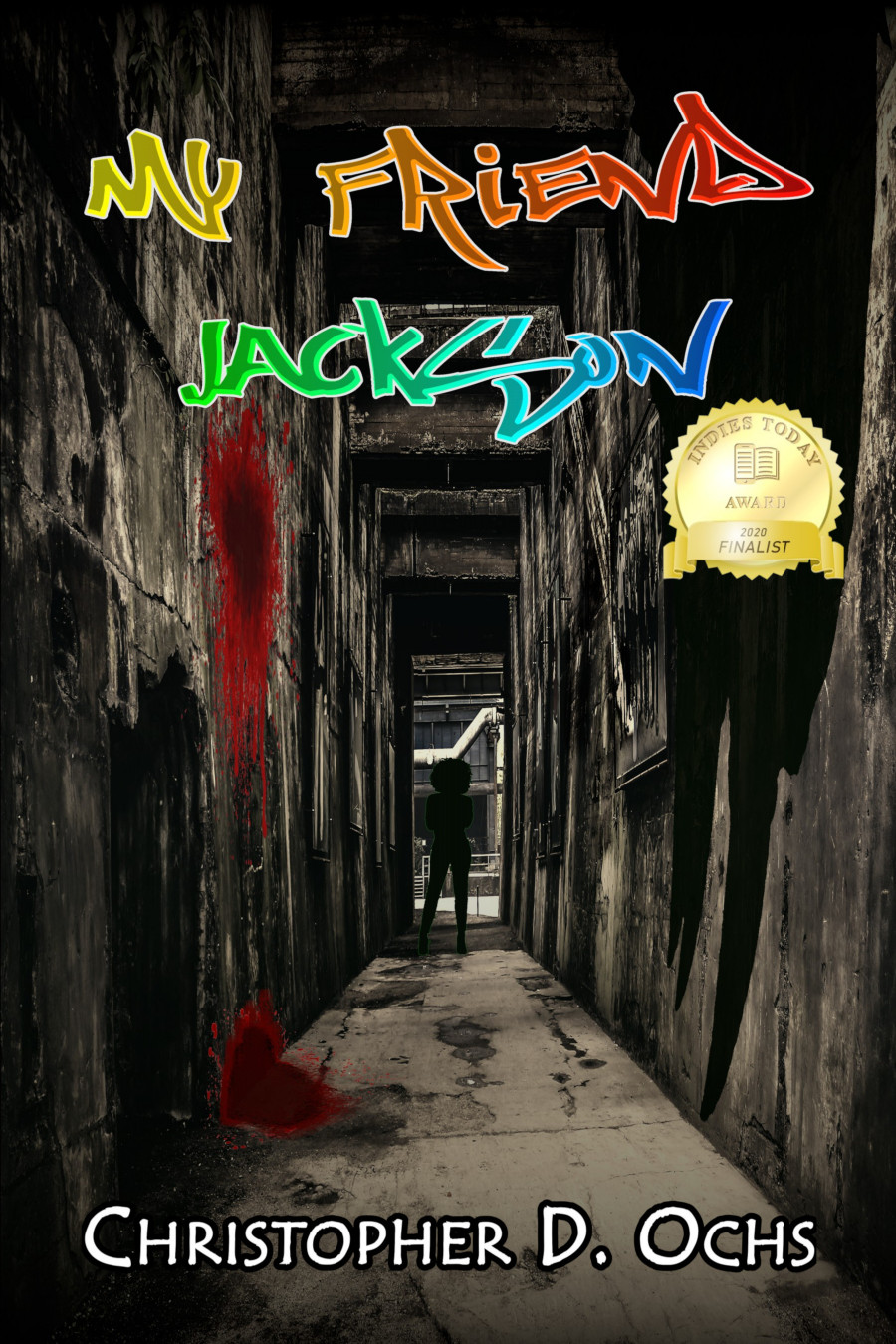 My Friend Jackson
An Ancient Guardian Chose Her - Neither the Guilty, Nor the Innocent, Nor She Are Safe
Fresh out of the Projects, Jasmine Price's days are filled with emotional, physical, and cyber abuse at the hands of her new school's queen bees. With her parents mostly absent, Jasmine latches onto Bibi, a grandmotherly figure from Tanzania, and her beloved pet chameleon, Jackson.
Violence toward Jasmine escalates to a murderous level, until a monstrous force intervenes on her behalf with deadly consequences. Emboldened by her new unearthly ally, Jasmine takes the offensive, becoming a merciless force far more terrifying than her worst tormentors.
But choices have consequences. - Some more horrific than others.
Reviews
"... Ochs channels Stephen King in this unexpected and entirely unique urban fantasy."
Indies Today
"... taut and compelling."
Readers' Favorite
| | | | |
| --- | --- | --- | --- |
| Amazon | | Goodreads | |




If I Can't Sleep, You Can't Sleep

Disturbed and Disturbing Bedtime Reading to Inflict on Naughty Children ... of All Ages

Fairy Tales, Myths & Legends
The Woman in the Sand • The Mask of Jyestha • The Best Instrument • The Tower of the Moon • The Troll of Helenbak
Short Stories
Granpa's Dream House • Adopt, Adapt and Improve • The Christmas Monster • No Thing to Worry About • No Children Aloud

Reviews
"... amazing stories that would chill me to the bone one minute and then leave me surprised the next."
Readers' Favorite

"... delightfully dark and quirky ... The author appears to be channeling his inner Roald Dahl"
A. E. Decker, The Falling of the Moon, The Meddlers of Moonshine

"All are splendidly written and demonstrate [his] breadth and range as a storyteller."
Phil Giunta, Testing the Prisoner, Somewhere in the Middle of Eternity

| | | | |
| --- | --- | --- | --- |
| Amazon | | Goodreads | |

---





Pindlebryth of Lenland
The Five Artifacts

The entire Lemming nation has been enslaved by a forgotten enemy. Prince Pindlebryth soon learns of the larger plot by an unknown nemesis to use the mystical Artifacts to remake the world in their own image.
Pindlebryth and Lenland's untried sorceress Darothien, struggle against betrayal, international intrigue, and an unseen puppetmaster, as they race to follow a bewildering trail of ancient clues to free their people and locate the most powerful of the Artifacts.

Reviews
"... adventure filled with political intrigue, suspense, and an air of mystery. Superbly told and engaging, [Pindlebryth] is a solid entry into fantasy literature."
The US Review of Books

"This page-turning fantasy combines the intrigue of a gripping spy novel with the heroic action of all great epics."
Plum McCauley, Worthy of Prometheus

"Magic, betrayal, and conspiracy abound in this richly woven, Arthurian fantasy of a Lemming prince in a world ruled by feathered and furred characters."
D.T.Krippene, contributor, Untethered

| | | | |
| --- | --- | --- | --- |
| Amazon | | Goodreads | |




Writing Across America
2023 GLVWG Anthology

Writing Across America may sound like a travel journal—it's more than that. Yes, you'll read about places, locations and pit stops. But you may recognize yourself in these pages.
Includes my story of blackmail and birdwatching, Incident at Robinson's Lake.

| | | | |
| --- | --- | --- | --- |
| Amazon | | Goodreads | |

---





Element of Mystery
"Sweet, Funny, and Strange"® Tales of Intrigue

The Bethlehem Writers Group is pleased to present this collection of tales of mystery and intrigue—the latest in its award-winning series of anthologies. From classic whodunnits to tales of the unexplained, each of the twenty-three stories contained herein have an element of mystery that will keep you guessing and wanting to read just one more story.
Includes my short fiction, Man of His Word, where a local sheriff and a quirky FBI special agent track a notorious serial killer.

| | | | |
| --- | --- | --- | --- |
| Amazon | | Goodreads | |

---




Meanwhile in the Middle of Eternity
3rd in Firebringer Press' series

I join the stable of Firebringer's writers: Phil Giunta, Steven H. Wilson, and more. It includes my wierd tale, If These Walls Could Talk.
Mysterious dryads, sinister genies, clever robots, insidious aliens, slithering demons, menacing ghosts, oh my!

| | | | |
| --- | --- | --- | --- |
| Amazon | | Goodreads | |

---





Writes of Passage
2021 GLVWG Anthology

A fragile singer struggles to revive her career amid personal tragedy. An extraterrestrial child with some major explaining to do. A secluded widower doubting his sanity amid supernatural activities. A departed teen with some lessons for The Ferryman.
Writes of Passage is full of hearts that hope, lament, and are revitalized, where protagonists fight for survival, celebrate courage, grapple with loss, and prevail over both physical and emotional obstacles.
Includes my story of childhood dares, Kinsey's Quarry.

| | | | |
| --- | --- | --- | --- |
| Amazon | | Goodreads | |

---





Feathers, Fur & Scales
"Sweet, Funny, and Strange"® Animal Tales

Dozens of short stories from members of the Bethlehem Writers Group and two contest winners. It includes my speculative fiction (industry-speak for "tales of the weird") Goats in the Machine.
From snakes to ducks to unicorns, there are tales here to match any mood, provide a chuckle, or warm a heart.

| | | | |
| --- | --- | --- | --- |
| Amazon | | Goodreads | |

---




Rewriting the Past
2019 GLVWG Anthology

22 short stories, 4 essays and 9 poems, all from members of the Greater Lehigh Valley Writers Group. It includes my speculative fiction The Teller of Not-So-Tall Tales.

Also includes stories by my good writer friends John Evans,&nbsp Phil Giunta,&nbsp Keith Keffer,&nbsp and many more!

| | | | |
| --- | --- | --- | --- |
| Amazon | | Goodreads | |

---





Untethered
"Sweet, Funny, and Strange"® of the Paranormal

Stoke the campfire and get ready for some chills and goosebumps when you open this paranormal addition to the award-winning Bethlehem Writers Group's anthologies.

Untethered contains two of my stories:
Ride of His Life - A bunch of kids receive a message from a roller coaster's unexpected passenger.
Un-Familiar Spirit - Two Egyptologists embroil friends and family into their exploration into whether or not ghosts truly exist.

| | | | |
| --- | --- | --- | --- |
| Amazon | | Goodreads | |

---




The Write Connections
2017 GLVWG Anthology

22 short stories, 7 essays and 12 poems, all from members of the Greater Lehigh Valley Writers Group. It includes my thriller set in the not-so-distant future, Deadly Embrace.

... and guess who did the cover art again?!

| | | | |
| --- | --- | --- | --- |
| Amazon | | Goodreads | |

---




Once Upon a Time
"Sweet, Funny, and Strange"® Tales for All Ages

A collection of 21 stories to grow with your child. The young-reader anthology from the prolific award-winning Bethlehem Writers Group, Once upon a Time contains my beginner-reader fairie-tale Give and Take and my middle-reader story Book Worm, both right up my mirthful macabre "Twilight Zone for Kids" alley!

Reviews
"A readable treat ... the perfect book to snuggle up with before bedtime or share over milk and cookies ... sure to delight both youngsters and the young at heart." -
A.E. Decker, the Moonfall Mayhem series

| | | | |
| --- | --- | --- | --- |
| Amazon | | Goodreads | |

---




Write Here, Write Now
2016 GLVWG Anthology

The tradition continues! An eclectic collection of stories - Scary, serious, inspirational, funny! From the GLVWG, it includes my strange tale, That Which Was Lost.

I also did the cover art!

| | | | |
| --- | --- | --- | --- |
| Amazon | | Goodreads | |

---


Sorry, out of print!

GLVWG Writes Stuff
2015 GLVWG Anthology

Scary, serious, inspirational and funny, these tales will transport you to other places, other times, or maybe just to your own back yard.

GLVWG's first anthology of 27 short stories and 13 essays, it includes my horror/suspense short story, Eight. Who would have guessed it would be a harbinger of the dozens of short stories to come?

| | | | |
| --- | --- | --- | --- |
| Amazon | | Goodreads | |